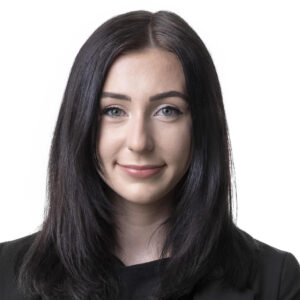 Zoë represents creditors in bankruptcy cases, chapter 7 bankruptcy trustees, and state court receivers. In addition, Zoë volunteers to represent clients through Legal Aid Services of Oregon on a pro bono basis - including through the Oregon Farmworker Project, the Senior Law Project, and the Debtor-Creditor Section's Pro Bono Bankruptcy Clinic.
Zoë also enjoys representing farmers and agricultural businesses in the Willamette Valley. Zoë's article "Defining Damage: The 'Damage' to Commercial Agricultural Products' Exception to Oregon's Right-to-Farm Law" was published in the Oregon Law Review (Volume 100, Issue 1).
During law school, Zoë served as an extern for the U.S. Bankruptcy Court for the District of Oregon, where she was able to work with and learn from the experienced members of the Bankruptcy Court.
Growing up in Salem, Zoë is a lifelong Oregonian. In her free time, Zoë enjoys ballroom dancing, exploring Oregon, and hanging out with her Boston Terrier, Millie.